Accommodation, rooms and facilities
Enjoy the castle view from every room
Every room has small hall and private sanitary facilities (shower, WC), TV-SAT and Wi-Fi, somewhere with balcony
Room count: 11 | Bed count : 30 | Room types: 2-bedroom, 3-bedroom, 4-bedroom
We accommodate also bigger groups
HERE you can check quickly if the rooms are available
Kitchenroom
There is a room on the ground floor, which is used by our guests not only as a place for comfortable gathering, but also as a kitchen. The kitchen is fully equipped: refrigerators with freezer, dishwasher, microwave, stove, oven and other kitchen accessories (dishes, kettles, cleaning products). Tea and coffee is for all our guest avilable for free.
Lounge literally IN THE ROCK
Use the uniqe lounge in the rock. An atractive element of this rooms is the cliff, that runs through the whole premises. A part of the building is built completely on the rock and makes up an unforgettable interior together with original brick vaults. The capacity of the lounge is 40 people. More information about rooms IN THE ROCK
Guesthouse facilities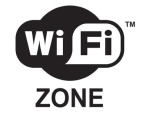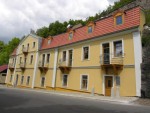 Parking
Parking is for guests free in front of the building. Or on the oposite side of the road.
Bicycle depository
You can store your bicycles or other stuff.
WiFi, PC for guests
FREE wirelles interenet connection.
PC for guests available for FREE.
Business needs
Accomodation on a business trip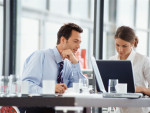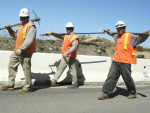 Karlovy Vary – only 8 km (10 min). Take the advantage of better price offer in old-time town Loket. Our guesthouse provides pleasant base for you or for your employees on a business trip. Quality board is available "next door".
Tell us your requirements and we will accommodate. Our hotel is suitable for smaller trainings, corporate and private events.
Trainings and seminars
Whole building rent
Lunch or dinner can be provided in a nearby Castle restaurant
WIFI Internet
For families with kids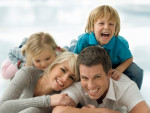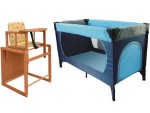 Our hotel offers ideal background for families with kids. There is a park in neighbourhood (400m) with natural theater and Loket town has nice surroundings suitable for walking trips with baby carriage e.g. Svatošské skály (Jan Svatos Rocks). We offer for FREE 2 baby cots and baby dining chair Kitchen is available for all our guests. Children up to 10years have lower prices, babies up to 3years are for FREE.
Recomended restaurants in Loket