Accommodation in nice hotel under the Castle Loket
Accomodation in Loket, Carlsbad (Karlovy Vary)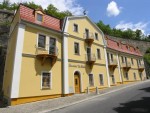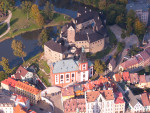 "The Guest House In the Rock" is situated in old-time West-Bohemian town Loket. 800 years old castle is dominant feature of Loket. The town lies in an Enviromental-protected zone Slavkov´s forest. It is also near the famous spa-town – Carlsbad (only 7 kilometres). Krušné hory are not so far as well. Ideal accommodation find anyone here – we receive both sportsmen, fanciers of nature and families with children or admirers of architecture.
Why to spend a holiday just here?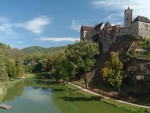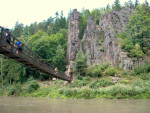 Our Guesthouse house "In the Rock" is situated on the begining of the historical medieval towncentre of Loket. Thanks to advantageous situation by the riverside have our guests wonderful view to Loket´s castle from every apartment especially from outsider rocky-terrace. It is only 250 metres to the town centre. Loket is founded by tourists for it´s (one´s) rich cultural and sporting program. Under the castle in turn of river Ohře lies an Loket´s Summer Amphitheatre. An operas, theatrical and musical performances take places there. The moto-cros racingcourse of the Worldchampionat is placed above the town. In the evening you can sit for a while in a themed restaurants and pubs. Capacity of our boarding house is 30 persons. All rooms have own sanitary facilities, balcony, TV.
Surroundings and tips for trips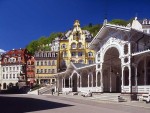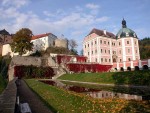 Our guesthouse provides you an ideal background for travelling around region Karlovy Vary and Loket's outskirts has really many possibilities how to spend your perfect holidays. Loket lies in the modele of the West-Bohemian-Spa-Triangle and because of that visit of Carlsbad is almost commonplace. Mariensbad and Fransbad are also fascinating places. You should see it! Loket is framed by fabulous nature protected zone Slavkov´s forest. It is ćhallenge for hikers, bikers or canoe-keeners. In a sweaty summer days you can spend the afternoon in the WaterWorld Michal. In the winter you can ski on the KrusneHory-slopes.